Dining with Your Dog or Cat

What You Need to Know About Dog and Cat Nutrition

Species-Appropriate Food for Cats

Kymythy's Kitchen Nutrition: Strawberry Soup

Kymythy's Kitchen Nutrition: Milk Alternative

More...

Other Books by Kymythy R. Schultze



The Natural Nutrition No-Cook Book

About the Book

Table of Contents

Book Excerpt

Buy it Now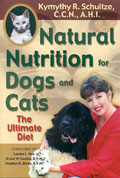 Natural Nutrition for Dogs and Cats


About the Book

Table of Contents

Book Excerpt

Buy it Now
"In these pages, Kymythy Schultze has provided an excellent nutritional text to help us build a healthier life for our animal friends."
– Stephen R. Blake, Jr., D.V.M.
"The Ultimate Diet is an excellent starting point for us all. Its pages are filled with helpful hints, good advice and, most important, logic and common sense."
– Bruce W. Cauble, D.V.M.



Natural Nutrition for Cats


About the Book


Buy it Now

Pick up a copy of Kymythy's new book Natural Nutrition for Cats now! This book contains need-to-know facts about the pet food industry and ingredients that can harm your furry friend (dog lovers will benefit greatly by reading this book too!). Some of the information is shocking but true. And you have the right to know!


Protect yourself from pet food recalls!


Read Natural Nutrition for Cats, today!


Just Released!




Kymythy R. Schultze is a world reknown expert in the field of nutrition for humans and animals. Her regular columns and articles appear in print and on numerous websites including: